Insight Edition 6

30 June 2020: Edition 6
From the Independent Assessor
Kathleen Florian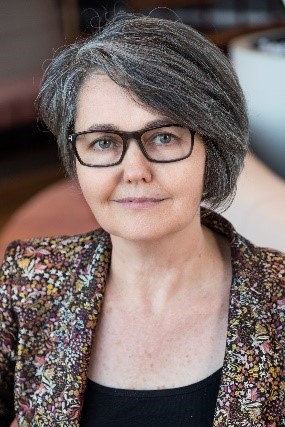 Last year the Office of the Independent Assessor (OIA) signalled that it was closely following how inappropriate conduct complaints were being resolved, and I think the time has come to start a conversation about how the process could be improved to further enhance integrity in local government.
This is an important conversation as the councillor conduct framework is most effective when every level of conduct is addressed proactively to operate as a barrier to escalating conduct issues.
While the OIA is the independent body that receives and assesses councillor conduct complaints, it can only investigate lower-level inappropriate conduct if it is tied to misconduct. Complaints that solely raise suspicions of inappropriate conduct proceed through a natural justice process with the councillor.
This process often results in a councillor providing a detailed account and other relevant material which allows the OIA to take no further action or dismiss a matter at this point, when appropriate. However, if the OIA still suspects inappropriate conduct the matter must be referred to the relevant local government to deal with and the OIA has observed varying standards prevail at this stage.
While some councils have dealt with inappropriate conduct openly, objectively and fairly, other councils have expressed concerns about councillors sitting in judgment of their peers and their reluctance to substantiate a conduct allegation. Alliances are also cause for concern as councillors who belong to a team or voting block appear less likely to be found to have engaged in inappropriate conduct than someone who is on the political outer. Issues have also been identified surrounding compliance with the council's investigation policy, including the natural justice provision.
Our records back up these concerns. Of the 48 inappropriate conduct matters which have been referred to local government, five were sustained, 11 were not sustained, one was referred back to the OIA, six were withdrawn or dismissed, and the remainder are either unresolved or the council is yet to advise the OIA of an outcome.
While the OIA has observed indicators of a strengthening integrity culture overall, it may be the case that further legislative amendments are needed to ensure consistent standards are transparently applied across local government when it comes to inappropriate conduct. Alternatively, councils could themselves act to ensure that objectivity and integrity prevail by discussing these issues as a council and resolving to deal consistently with them moving forward.
The OIA is currently identifying a panel of external investigators who come with a good reputation and reasonable price tag and may be of use to local governments in quickly, independently and consistently investigating matters particularly where they involve inappropriate conduct complaints by one councillor against another or complaints against a mayor. Should you see other ways that the OIA could assist you to deal with inappropriate conduct fairly and effectively, we would like to hear about them.
Being proactive in addressing this issue is another way in which councils can demonstrate to their communities their commitment to strengthened integrity standards.
Kathleen Florian
Contact: independentassessor@oia.qld.gov.au
Phone: 1300 620 722
OIA complaint management at a glance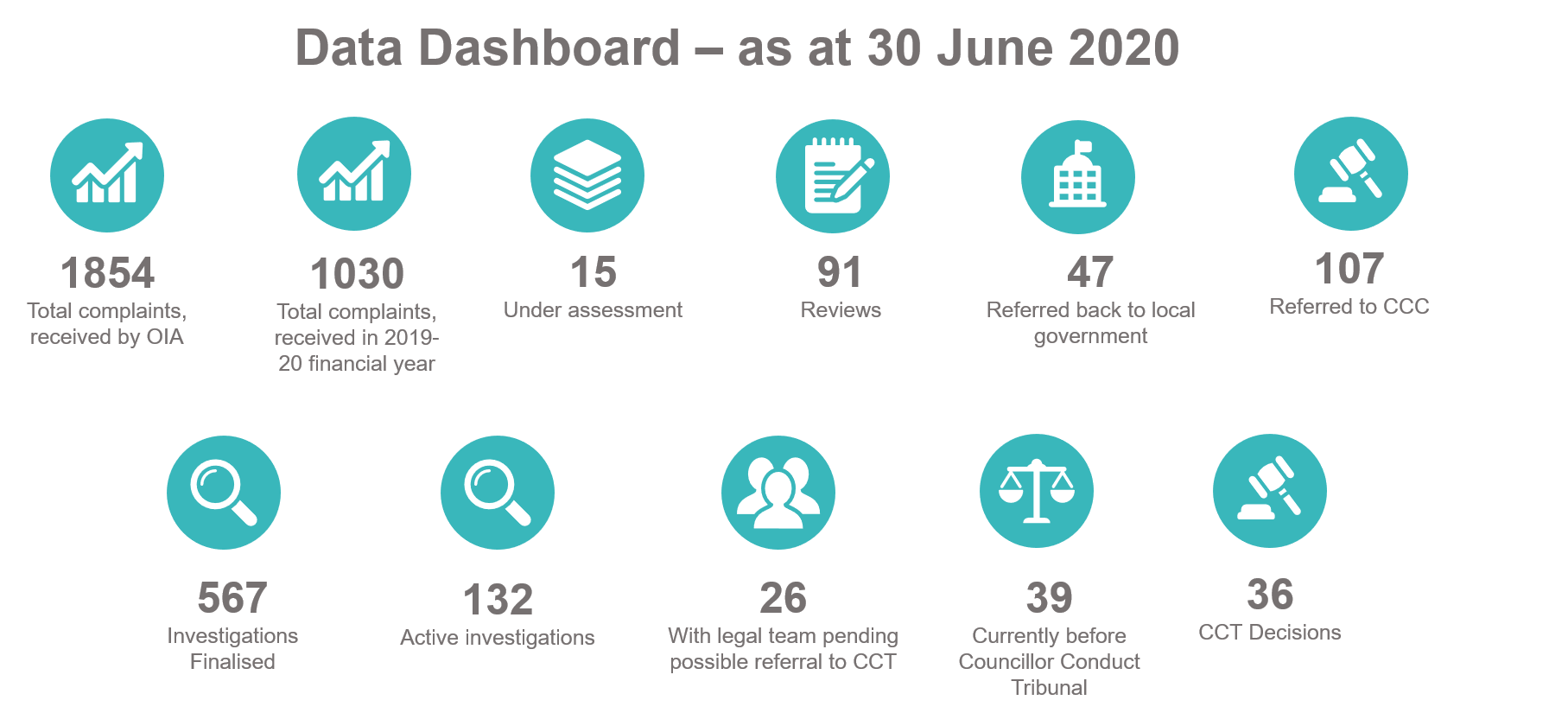 The above figures have been recorded since the OIA's establishment on 3 December and are current as at 30 June 2020.
*Finalised investigations include 130 complaints about one councillor. These complaints have been forwarded to the Councillor Conduct Tribunal (CCT) as one prosecution.
Complaints: data & trends 2019-2020
During 2019-20 financial year, the OIA received councillor conduct complaints in relation to 55 of the 77 local governments in Queensland. Most of these complaints (43%) were received from members of the public, closely followed by 42% from local government sector itself. 68% of complaints were categorised as either potential misconduct or inappropriate conduct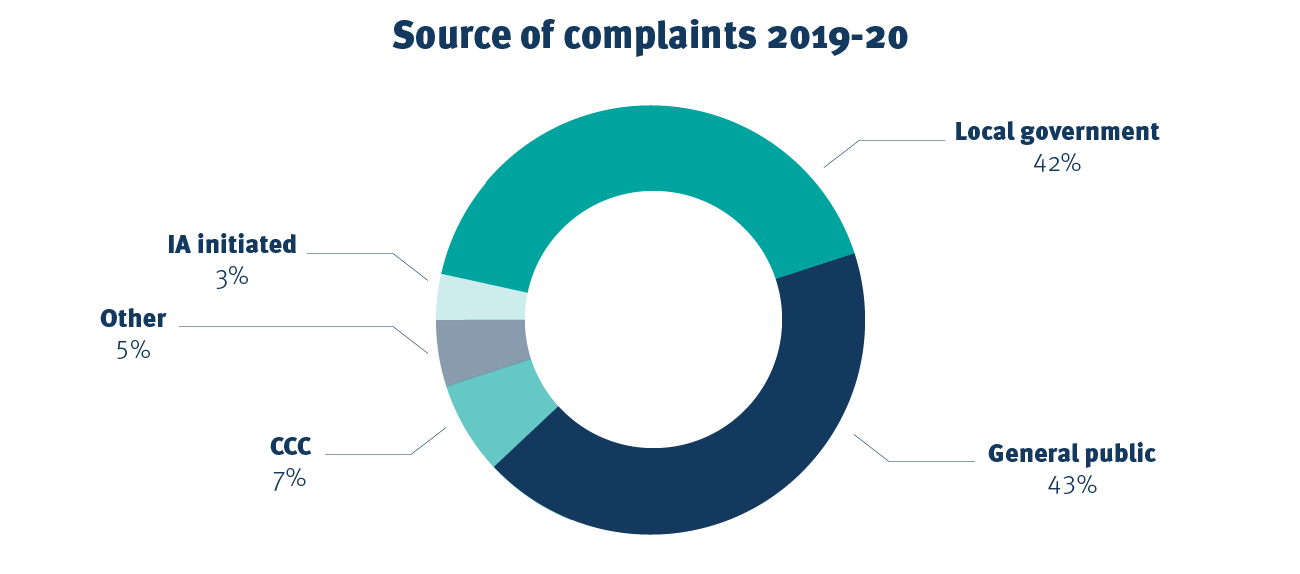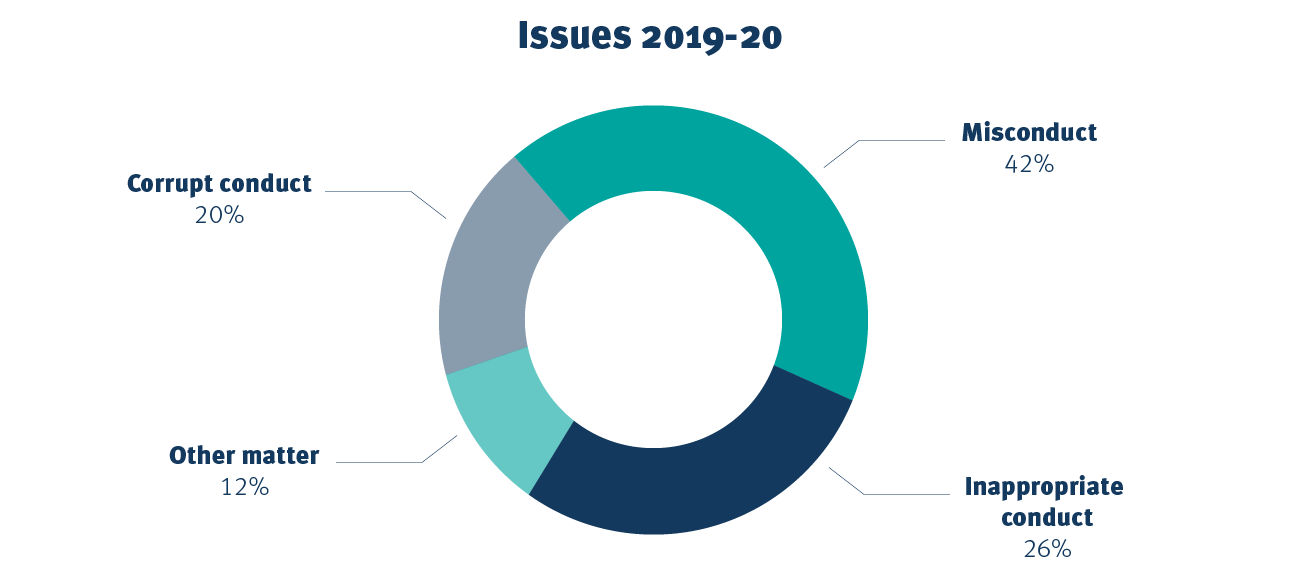 The analysis below details the number of complaints received however care should be taken in drawing inferences based on numbers alone. A high volume of complaints related to a particular council or region could point to a problem, but it could equally indicate a focus on identifying and reporting councillor conduct. The relative size of councils and the number of councillors are also relevant considerations.
Complaints: South East Queensland 2019-2020
The following graphs depicts the number of complaints received about councillors in South East Queensland by quarter.
The fourth quarter is the first full quarter since the Ipswich and Logan and City Councils were reinstated at the March 2020 elections, having been dismissed in 2018 and 2019 respectively. Any complaints received prior to these elections relate to the previous councils.
The fourth quarter is also the first full reporting period since the Brisbane City Council (BCC) came under the OIA's jurisdiction on 30 March 2020. Complaints lodged prior to this date were handled by BCC itself and any unresolved matters were referred to the OIA.
The complaint statistics for Noosa Shire Council were affected by the receipt of 130 complaints in relation to one former councillor.
The top five complaint issues were: breach of trust (35%)*, conflict of interest (19%), not councillor conduct (16%), breach of the Councillor Code of Conduct (9%), social media (7%).
* This result is affected by a high number of complaints about one former Noosa Shire councillor.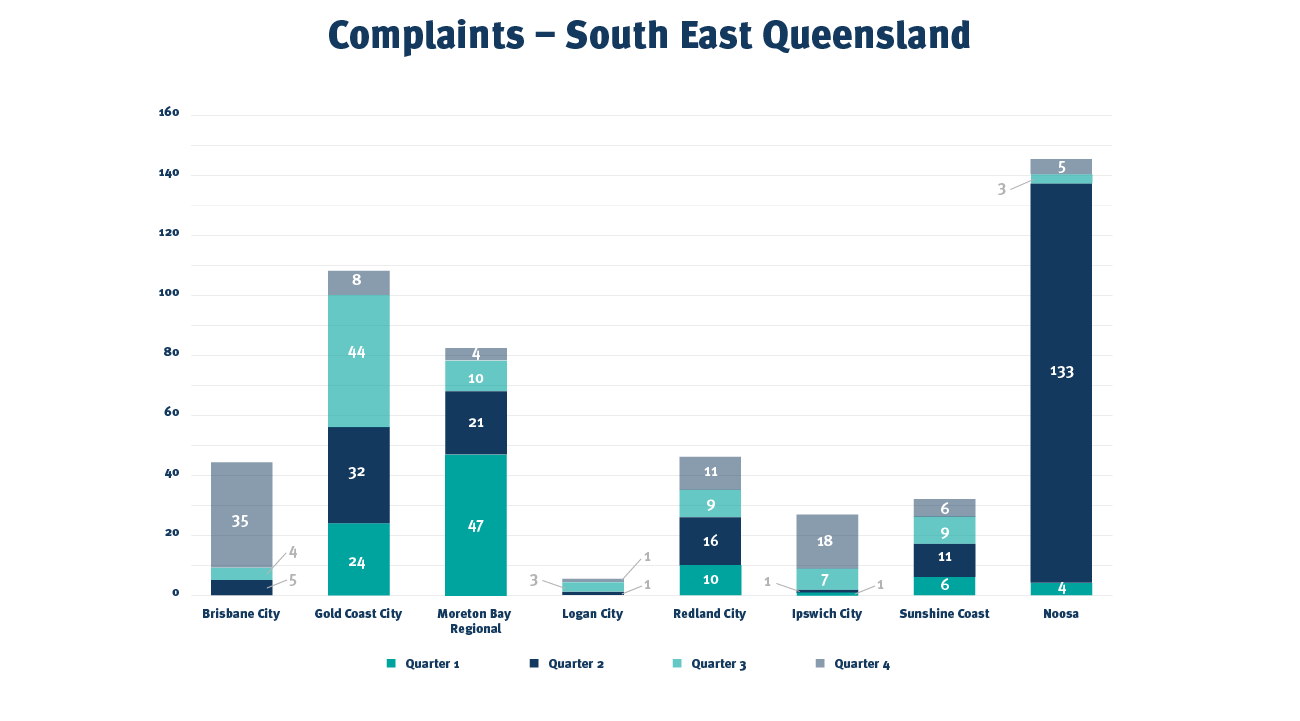 Complaints: Regional Queensland 2019-2020
The graph below highlights complaints received about the conduct of councillors in regional Queensland from 1 July 2019 – 30 June 2020. See the councils in each area here (PDF, 150KB).
There was a noticeable rise in the number of complaints for the Gulf/North West region over the past three months. The latest result is more than double the number recorded in this region for any other quarter in the past financial year.
The top five complaint issues were: conflict of interest (19%), breach Councillor Code of Conduct (19%), breach of trust (17%), dishonest/impartial performance of functions (7%) and breach policy / guidelines (6%).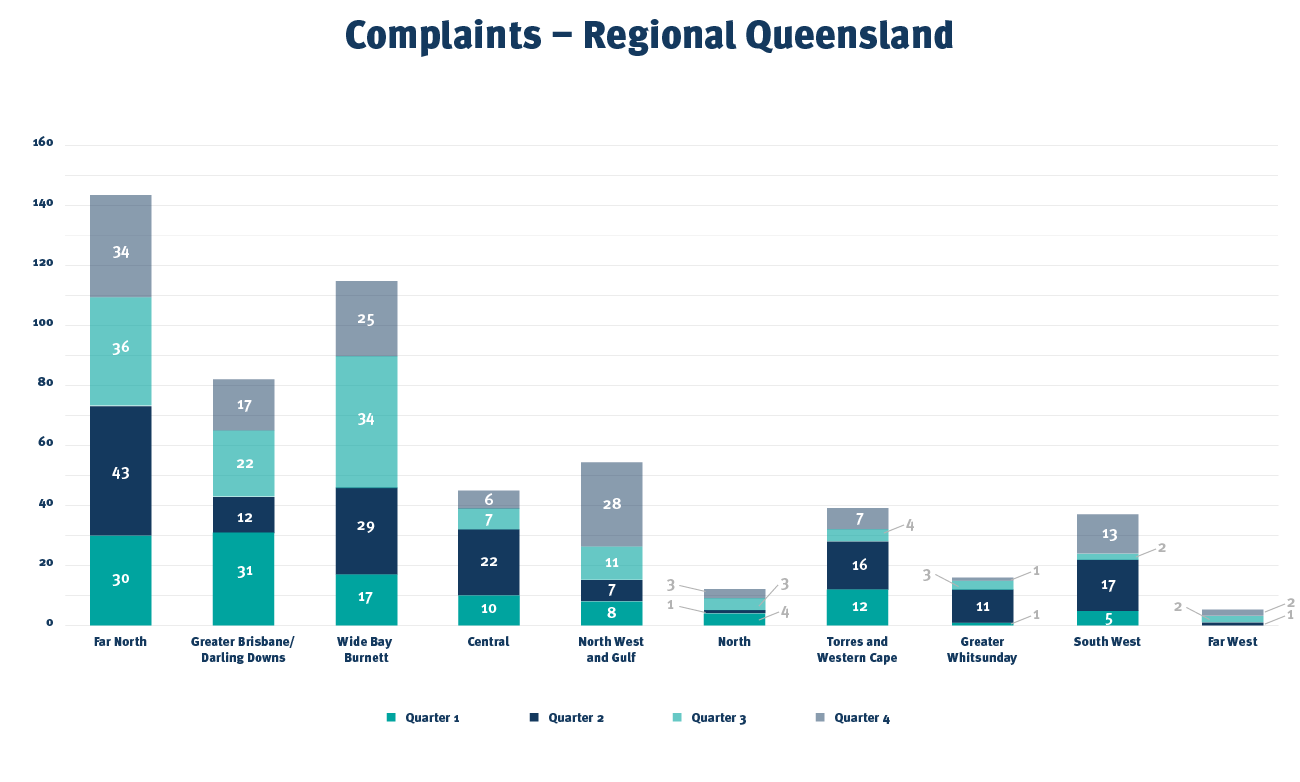 ---
Post-election review of complaints
Following the local government elections in March the OIA reviewed 85 cases involving councillors who did not return to office against set criteria, to assess whether pursing these matters remained in the public interest.
The review criteria took into account the seriousness of the complaint, the strength of the evidence, the types of sanctions likely to be imposed if a misconduct allegation was sustained, the former councillor's disciplinary history and whether he/she was the subject of any other outstanding matters already before the Councillor Conduct Tribunal(CCT) or the courts. The OIA also considered the general principle of deterrence and whether a complaint centred on an issue that would benefit from a CCT determination. CCT decisions can provide clarification or guidance to other councillors about the standards required of them.
As a result of the review 57 matters were either dismissed or subject to no further action (NFA), while it was determined that a strong public interest remained in progressing 28 matters.
If the CCT finds that former councillors have engaged in misconduct sanctions can still be imposed, although the range of options is reduced. For example, training and counselling orders are no longer available but reprimand or fine orders remain available.
---
Investigations and disciplinary matters
Since our inception on 3 December 2018 to 30 June 2020, the OIA has commenced 691 investigations, with 38% of complaints progressing to this stage.
An investigation is commenced if, after preliminary assessment, there is a reasonable suspicion of misconduct. A full investigation may result in the matter being dismissed or no further action (NFA) taken if the evidence gathered does not support the allegation.
Following a full investigation 47% of matters were dismissed or subject to NFA. This is 10% higher than that in the previous quarter and reflects the one-off impact of the post-election review as detailed above.
As at 30 June, there were 132 active investigations. A further eight were parked pending the outcome of criminal charges and 44 were on hold awaiting available resources. Ongoing delays in completing investigations are due to the high volume of matters with the OIA.
The top five issues investigated were (in order): breach of trust placed in a councillor, failing to declare or manage a conflict of interest, failing to disclose or update register of interests, failing to disclose a material personal interest and dishonest or impartial performance of functions.
South East Queensland
The following graph shows by council, as at the 30 June 2020, the number of current investigations into the conduct of councillors, the number of matters with the OIA legal team undergoing a natural justice process, the number of matters before the CCT and matters already decided by the CCT.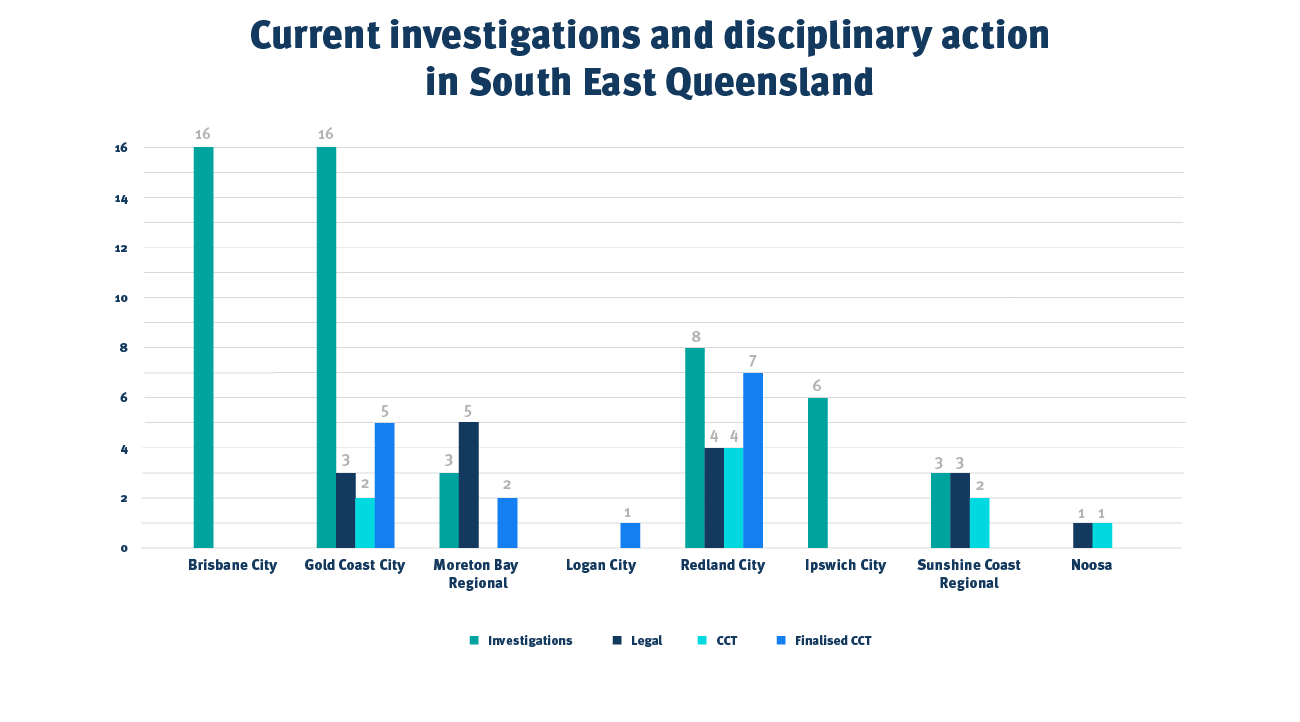 NB:
While a single issue in Noosa generated 130 complaints the matter is reported as one disciplinary matter before the CCT.
The Ipswich and Logan City Councils were reinstated at the local government elections in March 2020.
Brisbane City Council came within the OIA's jurisdiction as of 30 March 2020.
Investigations and disciplinary matters: Regional Queensland
The following graph provides the same data as above in relation to regional Queensland councils. See the list of councils in each region (PDF, 150KB).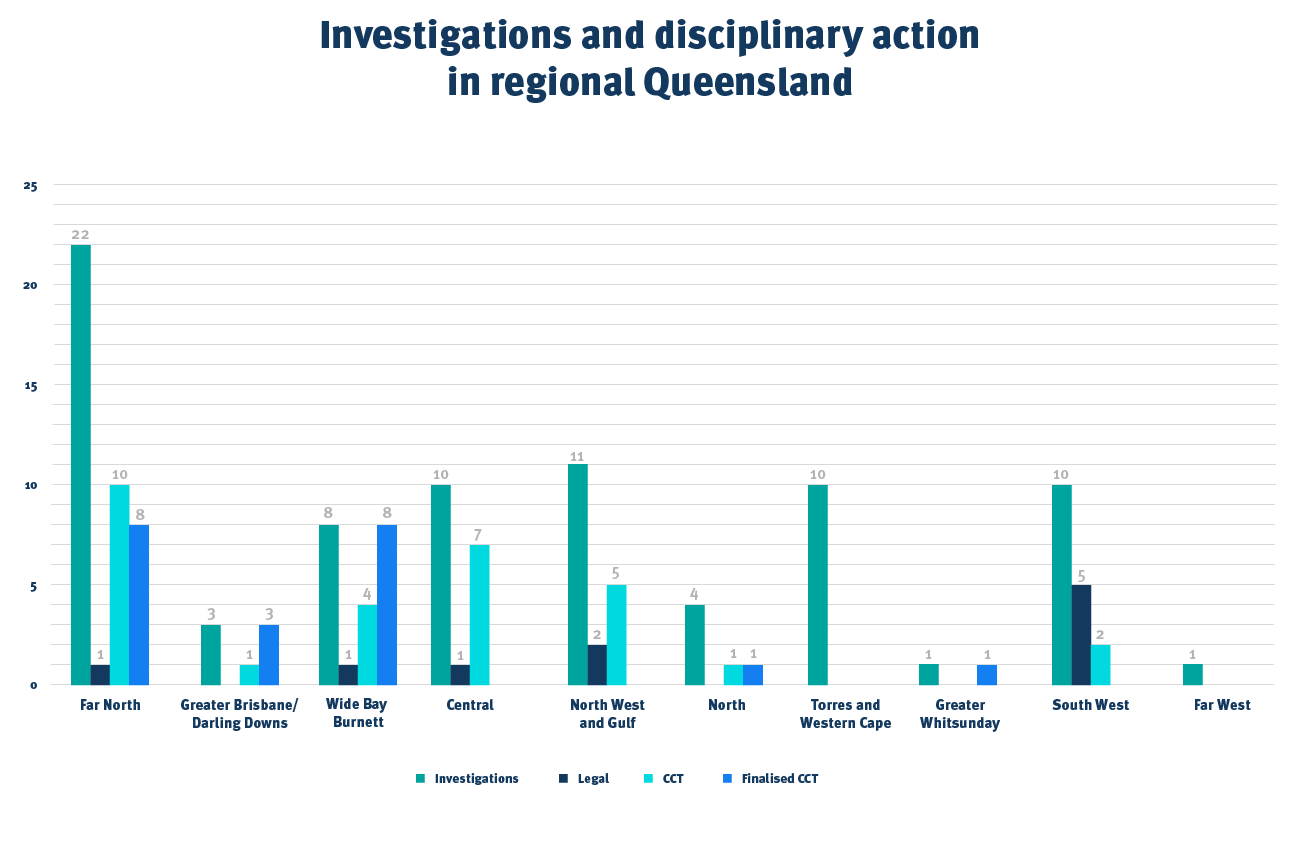 ---
Councillor Conduct Tribunal
The top five issues referred to the CCT are:
failing to disclose or manage a conflict of interest
breaching trust placed in a councillor
failing to disclose a material personal interest
misuse/inappropriate release of council information
not disclosing or updating relevant interests in a councillor's register of interests.

A key focus for the OIA has been progressing appropriate matters to the Councillor Conduct Tribunal
101 matters
63 councillors
151 allegations
either with the OIA legal team, with the CCT or decided by the CCT.
---
Amnesty for first timers
On 5 May 2020 the OIA announced a three-month amnesty for all first-time mayors and councillors in relation to complaints about alleged misconduct or inappropriate conduct, except when the matter is serious. This temporary measure was introduced in recognition of the steep learning curve faced by new councillors, particularly while dealing with the challenges posed by COVID-19.
The amnesty provides first-timers with an opportunity to learn from complaints as the OIA provides detailed feedback to the subject councillors about where they may have gone wrong, their legal obligations and the standards required of elected representatives.
As at 30 June the amnesty was applied in 18 cases involving 18 councillors:
12 x alleged breaches of the Councillor Code of Conduct
3 x alleged conflicts of interest
1 x alleged breach of council policy
1 x alleged breach of trust
1 x alleged release of confidential information
The amnesty will end strictly on 5 August 2020, and will not apply to conduct that occurs after that date.
---
Toolkit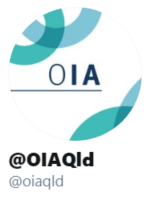 Check the OIA website for helpful resources including:
The discussion on the CCT decision (PDF, 183KB) on registers of interest and the scope of Item 17 on the approved form.
The latest newsletter from Queensland State Archives is a special edition for council. Read about the joint QSA/OIA guide on the use of messaging apps by councillors and there is important advice on recordkeeping.
Stay tuned for release of the LGAQ-OIA training video for Mayors and Chairs on managing unsuitable meeting conduct.
Be in the know! Follow the OIA on Twitter to receive important announcements and updates:

Last updated: 03 Aug 2020