Insight Edition 4

31 December 2019: Edition 4
From the Independent Assessor
Kathleen Florian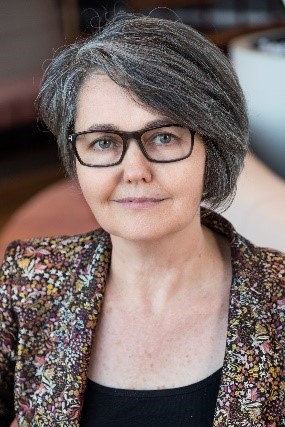 On the third of December 2019 the Office of the Independent Assessor (OIA) marked its first full year in operation.
By the 31st of December, the OIA had received 1,414 complaints identifying 1,728 different issues. Some may see this number of complaints as alarming — I don't. I see this as an indicator of a positive integrity culture. I am more concerned about the 16 Queensland councils for which there has been no complaint about any level of councillor conduct over 12 months.
The more interesting analysis now however is not the number of complaints, but what is happening to the complaints — what sort of matters are being investigated and to what end, and what matters are being referred to the Councillor Conduct Tribunal or are the subject of criminal offences.
In the first edition of Insight I said the OIA would build on the level of analysis and presentation of data in this newsletter over time to inform proactive steps that can be taken by the OIA, the Department of Local Government, Racing and Multicultural Affairs, individual councils and councillors. Now that we have a year's worth of data on investigations and matters being prepared for or referred to the Councillor Conduct Tribunal, this edition is designed to start giving more detailed analysis of things to look out for and focus your attention on.
This data could also provide an evidence basis for induction focus and content as we head towards the local government elections. Just as importantly, this edition of Insight will give you an overview of the OIA's higher level strategic approach to strengthening capacity and compliance with local government principles and relevant provisions over the past year. It also highlights the differences we are now seeing in how many councillors are disclosing and managing conflicts of interests.
Kathleen Florian
Contact: independentassessor@oia.qld.gov.au
Phone: 1300 620 722
---
Campaigning in 2020
The March elections are just weeks away and integrity issues are likely to remain in focus during the hectic and challenging campaign period.
Complaint figures recorded by the OIA's Victorian counterpart, the Local Government Inspectorate (which has been operating for more than a decade), show the start of a council term for them is usually characterised by legacy complaints related to conduct during elections.
Taking office under a cloud of complaints is not ideal so it is important to head into the campaign period with a clear understanding of your obligations.
Things to be alert to:
Make sure your register of interests is up to date and can withstand heightened scrutiny
Don't release confidential information or misuse council information and materials
Don't make false or misleading comments
Ensure council resources are not used for campaigning, including election-related social media posts
Occupy the high ground on social media, take care when posting, moderating or reacting to comments
Don't lodge vexatious complaints about your rivals– either directly or through another party - this can attract fines of up to $11,000
Our first year at a glance

NB: Figures are as at 31 December 2019.
The number of investigations finalised does not include matters which have been decided by the CCT, are with the CCT or are being prepared for possible referral to the CCT.
Investigations and disciplinary matters
Between its inception on 3 December 2018 and 31 December 2019, the OIA commenced 460 investigations with 42 % of complaints progressing to this stage. 203 or 44% of investigated matters were subsequently dismissed or it was determined that no further action (NFA) would be taken. When investigations result in these outcomes detailed reasons are provided.
Investigations were conducted for 45 of the 76 councils within the OIA's jurisdiction. As at 31 December there were 124 active investigations. A further 27 were parked pending the outcome of criminal charges and 28 were on hold pending available resources.
While a large number of investigations have been finalised, delays in completing investigations remain an issue due to the high volume of matters with the OIA.
As it takes some time for the more complex, substantive or contested investigations to progress, and as the OIA is still a relatively new agency, a full picture of how many matters translate into disciplinary matters is yet to emerge. Many of the disciplinary outcomes to date have been in relation to the more straightforward and/or fast-tracked matters.
Investigations and disciplinary matters: South-east Queensland
The following graph illustrates the number of councillor conduct investigations into south-east Queensland councillors as at 31 December 2019. At the conclusion of a full investigation the Independent Assessor (IA) will either dismiss / take no further action (NFA) in relation to the matter OR commence a statutory natural justice process prior to a possible referral to the Councillor Conduct Tribunal.
The following graph also records the number of matters that have been either decided by the tribunal, are before the tribunal or are undergoing a statutory natural justice process.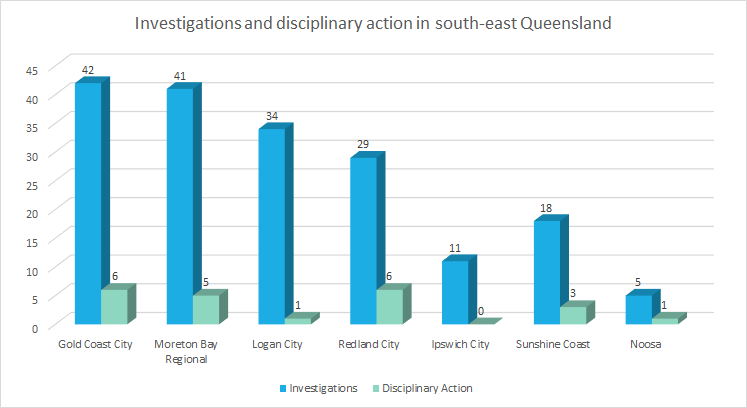 NB: While a single issue in Noosa generated 130 complaints the matter is reported as one investigation. All matters regarding Ipswich and Logan City Councils relate to former councillors. Currently, the Brisbane City Council does not come within the OIA's jurisdiction but will do so after the March elections.
Investigations and disciplinary matters: Regional Queensland
The following graph provides the same data as above in relation to regional Queensland councils. View the list of councils in each region (PDF, 150KB).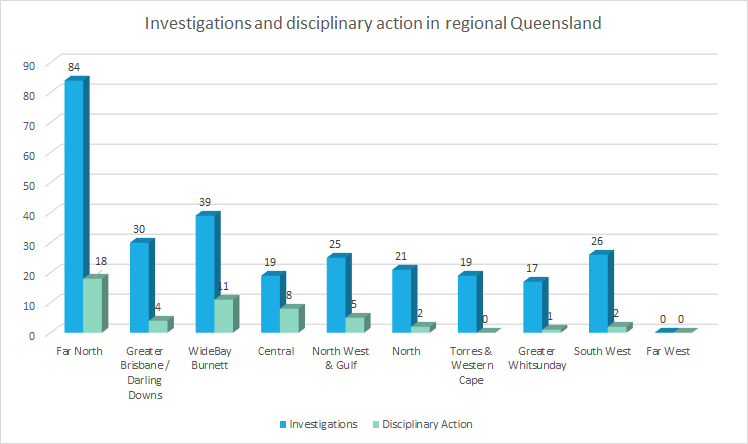 Investigations: sources and issues
The following graph illustrates the source of complaints that led to an investigation It should be noted that local government officials have a statutory duty to report suspected misconduct or inappropriate conduct.
The number of councillors who are starting to self-refer matters to the OIA is considered another indicator of a strengthening integrity culture. If such matters are referred to the Councillor Conduct Tribunal, the OIA ensures the councillor's self-referral is fully acknowledged and is taken into account by the tribunal in the determination of any disciplinary outcome.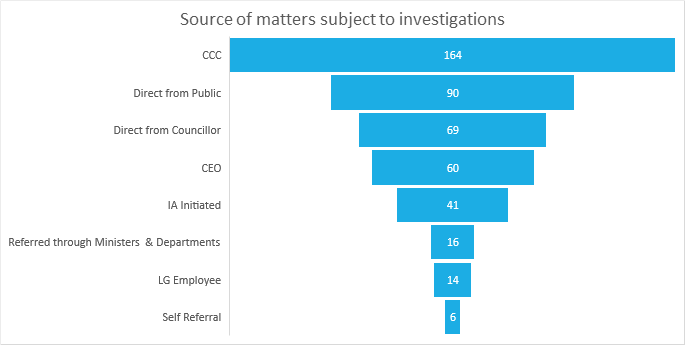 The graph below illustrates the percentage of complaints by issue that became an OIA investigation.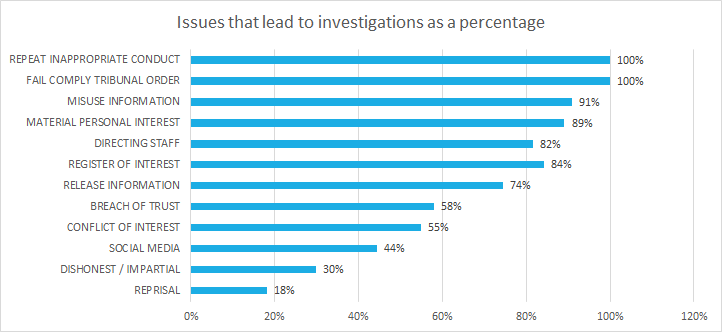 The fact that only 55% of complaints about conflicts of interest now become investigations is considered a product of improving practice by councillors in disclosing and managing their conflicts of interest. Please note, breach of trust involves a breach of one of the local government principles or councillor responsibilities.
Complaints: data and trends
As at 31 December 2019 the majority of complaints lodged with the OIA continued to be from members of the public however, they dropped to their lowest level in the last quarter constituting 42% of complaints received. In contrast, the number of complaints lodged by local government rose from 11% as at 30 June 2019 to 35% of all complaints received in the last three months of 2019. Increasing complaint numbers from local government are considered an indicator of a strengthening integrity culture.
The seriousness of complaint issues remained relatively steady over the year with 18% assessed as possible corrupt conduct and referred to the Crime and Corruption Commission in the last quarter.
The OIA has now received councillor conduct complaints relating to 60 of the 76 Queensland councils under our jurisdiction. That is four more councils than in the previous six months.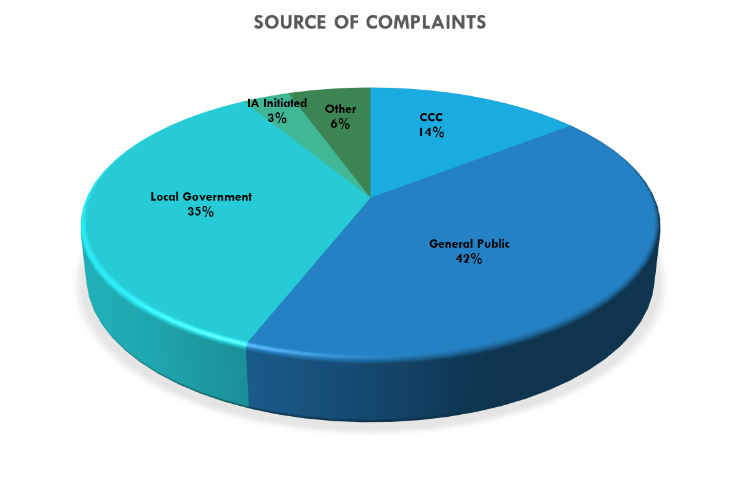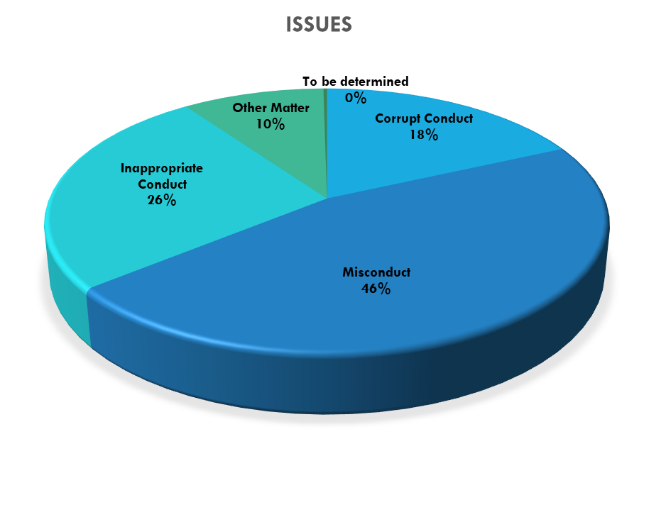 ---
Complaints: South-east Queensland
The graph below shows the number of complaints about south-east Queensland councillors between 3 December 2018 – 31 December 2019.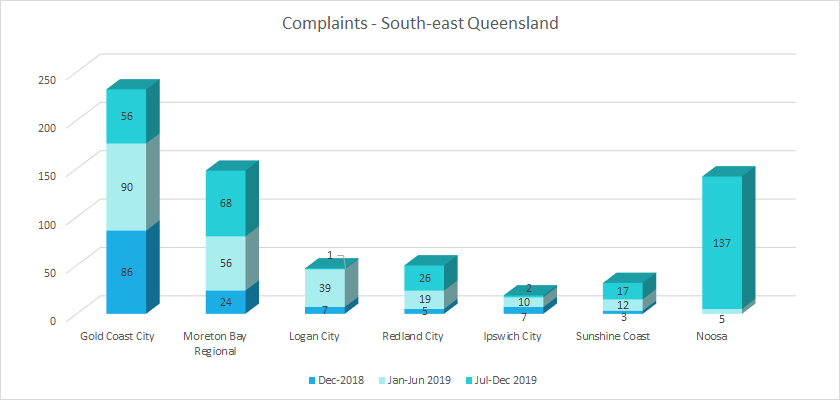 NB: The complaint statistics for Noosa City Council were affected by the receipt of 130 complaints regarding one councillor and a single issue.
Complaints: regional Queensland
The graph below highlights complaints received about regional councillors between 3 December 2018 – 31 December 2019.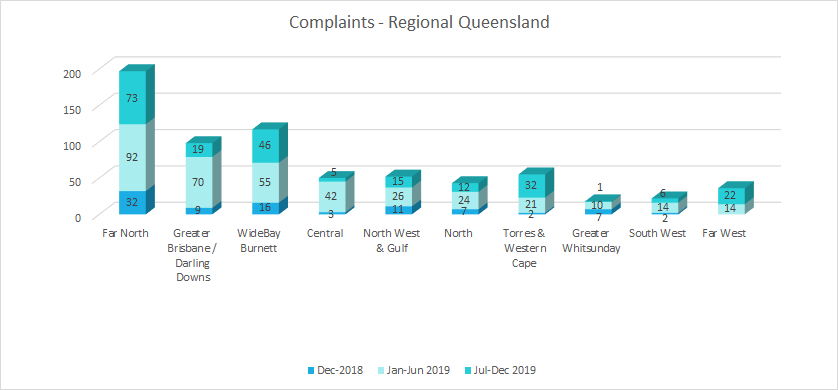 NB: The complaint statistics for Noosa City Council were affected by the receipt of 130 complaints regarding one councillor and a single issue.
---
A strategic approach to building capacity and improving compliance
The OIA can elect to deal with breaches of the Local Government Act 2009 (the Act) that create offences as either a criminal prosecution in the Magistrates Court or as a misconduct matter which is referred to the Councillor Conduct Tribunal.
The OIA's experience is that councillors' compliance with provisions in the Act relating to conflicts of interest and registers of interests has not been strong historically. Lack of clarity around the required standards and a lack of understanding about how the standards are applied have been contributing factors.
Due to the clarity and capacity issues, the OIA has dealt with all breaches of these interest provisions as misconduct. And no criminal offences have been commenced to date.
Dealing with matters as misconduct means they are dealt with on a disciplinary basis. The objective of a disciplinary scheme is to improve compliance with relevant provisions through counselling, education and, if appropriate, public admissions of misconduct, fines and other penalties. At the higher end, a recommendation may be made to the Minister for a councillor to be suspended for a period or dismissed.
The OIA has observed improved compliance with these provisions over the past year as councillors became more familiar with the legislative scheme, responded to the increased focus on integrity, and received more information about how standards are being applied.
The OIA is now seeing significant differences in how some councils deal with conflicts of interest and update their registers of interests compared to practices two years ago.
The OIA would consider dealing with a matter as a criminal offence in two circumstances:
If the circumstances of the breach are so serious that this is warranted. For example, where a failure to disclose has resulted in a councillor accruing a significant benefit or avoiding a significant loss.
If repeated disciplinary outcomes have not been effective in modifying the councillor's conduct. See also the OIA prosecution policy (PDF, 164KB).
---
Toolkit
Check the OIA website for helpful resources including:
Social media advice: Your Social Media and You guide (PDF, 2.3MB)
Decisions by the Councillor Conduct Tribunal
Coming soon: Are you using messaging apps to conduct council business?

Last updated: 19 Feb 2020