Insight Edition 2

30 June 2019: Edition 2
From the Independent Assessor
Kathleen Florian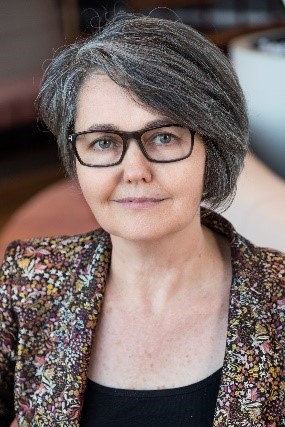 In the 2018–19 financial year there were 917 complaints made about councillor conduct. Since the Office of the Independent Assessor began in December last year, we have received 824 of those complaints - 240 in the last three months.
This is a 466% increase in the number of complaints received between the last financial year and this year, which raised 1,200 separate issues or allegations.
Over the last quarter complaints from the public increased to 62% of all complaints we received and we have dealt with councillor conduct complaints in relation to 51 out of 77 Queensland councils.
Notwithstanding this, the OIA has been able to assess 80% of the complaints that we have received within 21 working days.
The OIA has referred 74 matters of possible corrupt conduct to the Crime and Corruption Commission. We are taking swift action to dismiss or to take no further action on complaints when this is appropriate, with a total of 477 matters determined in this category, either on assessment or after investigation.
As at 30 June 2019 we have 152 ongoing misconduct investigations and a further 32 matters have been assigned to the OIA lawyers to prepare for possible referral to the Councillor Conduct Tribunal (CCT). To manage this workload, we are prioritising matters for active investigation and delays in investigations and referring matters to the CCT are being experienced.
In addition to the 32 matters that are being prepared for possible referral to the CCT a further 22 matters have already been progressed to the CCT. While we have fast tracked a number of smaller matters to the CCT there are now a number of more complex and or contested matters awaiting a hearing date from the Tribunal.
The CCT has determined 13 matters. Of these, 10 matters have been sustained and three not sustained. The OIA is continuing to produce analysis of the Tribunal decisions so that councillors can better understand the standards being set and can apply them to their own facts and circumstances.
In this edition we also explore the types of conflict of interest matters that are recurring in OIA investigations and provide practical tips and discussion on how to proactively manage these interests and Registers of Interest in our expanded Resources for councillors.
I trust you will find this second edition of Insight a valuable resource.
Kathleen Florian
Contact: independentassessor@oia.qld.gov.au 1300 620 722
---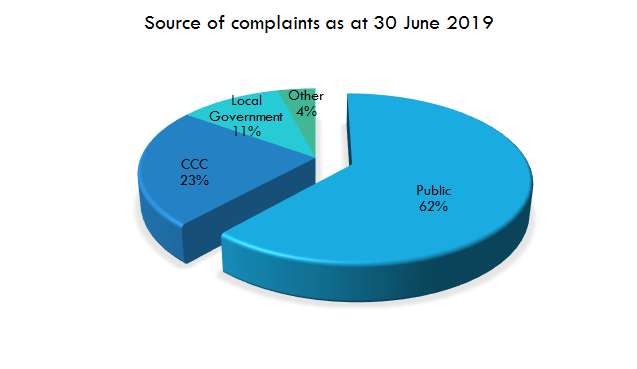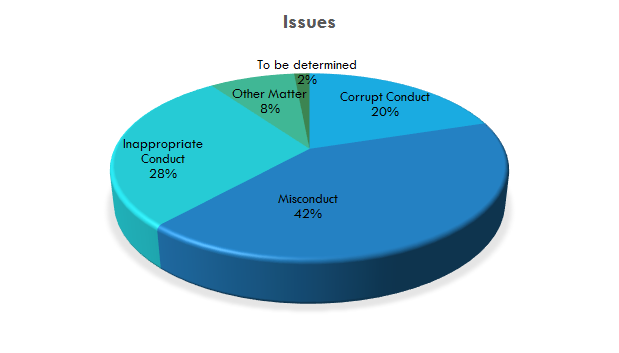 Data dashboard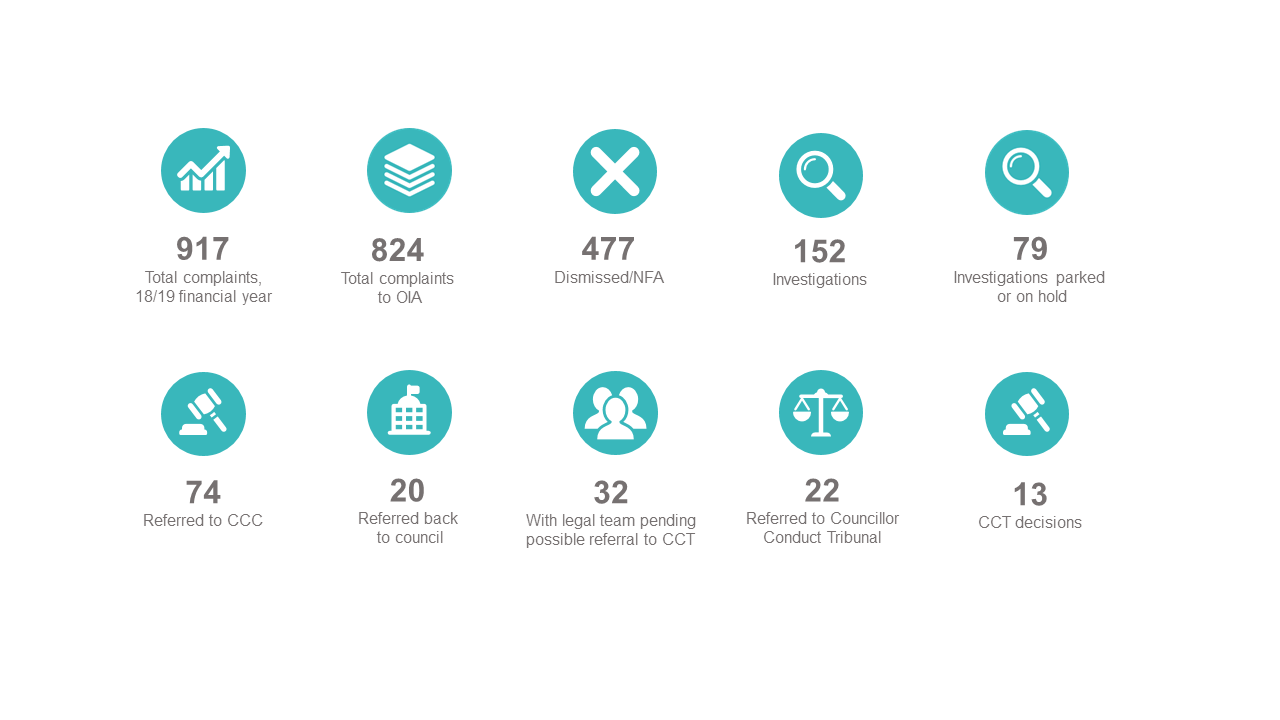 ---
Conflicts of interest - understanding misconduct risks
A conflict of interest occurs when a councillor's personal interest conflicts with the public interest creating a risk that a councillor may make, or be perceived to make, a decision that is not in the public interest. There is nothing inherently wrong with having a conflict of interest (COI). It only becomes wrong if it is not fully disclosed or managed.
OIA complaint and investigations data identifies COI as the most significant misconduct risk for Queensland councillors.

217 COI complaints or 26% of all complaints

144 COI investigations or 71% of all investigations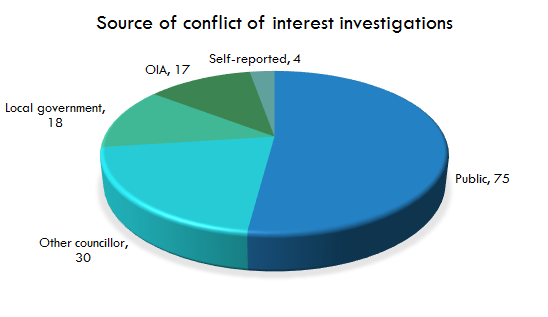 The OIA recognises that councillors are directly engaged in high volume and high value decision making about their own communities. Many councillors have lived, and are leaders, in their communities over many years and have close family, personal, business, sporting, financial and other connections.
They may also have developed expertise in industries, businesses or other pursuits that intersect with local government. Councillors are also very visible in their communities and are seen as the decision makers on matters that most closely affect the interests of ratepayers.
In these circumstances, the existence of COIs are inevitable. This underlines the importance however of fully disclosing and managing a councillor's COI.

Of all the conflict of interest related matters investigated by the OIA to date, these are the kinds of conflicts that have been recurring:
Voting on a matter related to an electoral donor who provided funds/gifts/benefits to the councillor - 38
Voting on a matter related to legal proceedings to which the councillor is a party - 30
Failing to report another councillor's COI - 28
Voting on a matter related to a friend/relative or associate of a councillor -15
Councillor ownership of property/business impacted by a decision of council -12
Voting to approve grants or development approvals for business entity owned/directed by the councillor -10
Councillor office bearer or associated with a community group or organisation subject to council decision - 7
Voting on a matter related to the employment/termination of a CEO where councillor has COI/ potential bias - 4
---
Complaint statistics
Complaints comparison by financial years
The 2018-19 financial year recorded a total of 917 councillor conduct complaints. Of these, 824 were complaints received by the OIA since 3 December 2018. Prior to that complaints were managed by the Department of Local Government, Racing and Multicultural Affairs.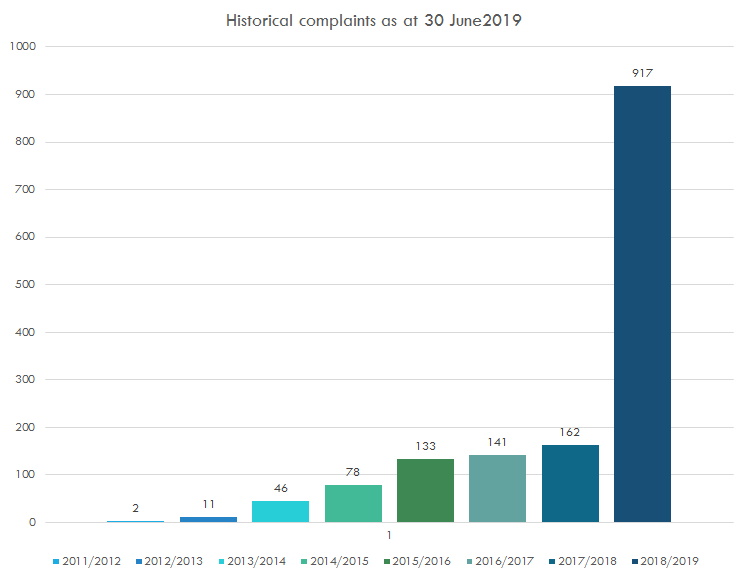 ---
Regional breakdown
South East Queensland
The graph highlights complaints received against South East Queensland Councils in the last quarter as a proportion of the complaints that the OIA has received since 3 December 2018. All matters regarding Ipswich and Logan City Councils relate to former councillors.
Brisbane City Council is not currently in the OIA's jurisdiction, however, there is legislation before the Queensland Parliament that proposes to bring BCC councillor complaints to the OIA.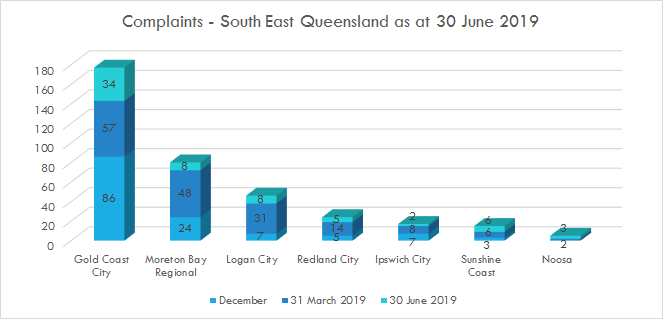 ---
Regional Queensland
The OIA has now received councillor conduct complaints in relation to 51 out of 77 Queensland councils. Councillors were the subject of complaints from 10 more councils this quarter. View the list of councils in each region (PDF, 150KB).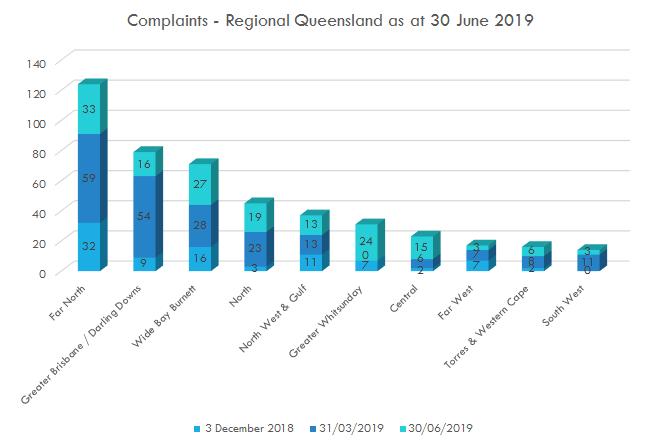 ---
Issue overview
Councillors failing to declare a conflict of interest remains the issue that attracts the greatest number of complaints.
| Category | 30 March 2019 | | 30 June 2019 | |
| --- | --- | --- | --- | --- |
| Conflict of interest | 191 | 24 % | 221 | 21% |
| Breach of Code of Conduct | 106 | 13 % | 191 | 18% |
| Breach of trust | 127 | 16 % | 153 | 14% |
| Out of jurisdiction | 77 | 10 % | 106 | 10% |
| Dishonest / impartial performance of functions | 77 | 10 % | 96 | 9% |
| Breach policy / guidance | 77 | 10 % | 85 | 8% |
| Social media | 39 | 5 % | 45 | 4% |
| Material personal interest | 20 | 3 % | 41 | 3% |
| Register of interests | 31 | 4 % | 37 | 3% |
| Release information | 18 | 2 % | 29 | 3% |
| Misuse information | 18 | 2 % | 24 | 2% |
| Directing staff | 7 | 1 % | 11 | 1% |
| Reprisal | 1 | | 3 | |
| Repeat inappropriate conduct | - | | 1 | |
| Influence | - | - | 1 | |
| Unclassified as at report date | 6 | 1 % | 24 | 2% |
| Total | 795 | | 1,071 | |
---
OIA in Profile
OIA legal work ramps up
In the first six months, 54 councillor misconduct matters were allocated to OIA lawyers to consider disciplinary or criminal proceedings. This included fast-tracked matters and contested hearings before the CCT.
Thirty-two matters are currently with the lawyers being prepared and/or going through the natural justice process that precedes possible referral to the CCT, while a further 22 matters have already been referred to the CCT. As at 30 June 2019 this had resulted in 13 CCT determinations where misconduct findings were sustained on 10 matters and in 3 matters misconduct was not sustained.
This workload has led to increasing contact with legal representatives representing councillors and a focus on the OIA taking steps to better explain the Tribunal and prosecution processes.
The letter will set out the allegations and the known particulars.
The letter will provide options for how the matter could proceed from this point.
This communication does not raise any requirement to engage in a natural justice process. A brief of evidence has not yet been compiled; it is an information gathering stage.

The councillor may agree with the allegation as alleged and elect to fast track the matter. Refer to uncontested process on OIA website.
If the councillor disputes the allegation, OIA will continue investigating.

To progress a fast track, or at the conclusion of the investigation, the OIA may send a section 150AA notice to the councillor advising that it is proposed to refer the matter to the CCT.
The councillor will also receive a draft Statement of Facts which sets out in detail the allegation against the councillor and the evidence supporting it.
This is a statutory natural justice process that precedes any decision to refer a matter to the CCT and the councillor will have the opportunity to comment on the allegations and/or the evidence before that decision is made.
A subject councillor is not provided with a full brief of evidence at this time.

If the decision is made to refer the matter to the Tribunal the subject councillor will be advised of the referral by the OIA and will be provided the date at which a directions hearing or hearing has been scheduled.
For contested matters a full brief of evidence will be provided at this time.
Toolkit
In our Resources for councillors read about how the OIA is using decisions of the CCT and other jurisdictions to produce summaries that may be useful in guiding councillors' understanding of the standards being applied by the CCT and other courts.
Understanding how regulation is applied in different circumstances will help to develop a shared understanding of standards and expectations that can then be applied consistently.
Top tips for Registers of Interests
Registers of Interests are an important transparency mechanism. Under Section 171B of the Local Government Act 2009, councillors are required to inform the CEO of the councillor's interests (or their related person's interest) and any changes to those interests within 30 days. Failure to comply with this obligation is an offence.
Although no prosecutions have been commenced for a breach of Section 171B, the OIA has, to date, referred four councillors to the CCT for misconduct in circumstances where the councillors have failed to update their Registers of Interests.
In our first six months of operation, the OIA has identified a number of risk areas for councillors in relation to their Register of Interests. These relate to:
the reporting of gifts that value more than $500,
the broad requirement in the Register of Interests form to report interests that raise or could raise a conflict of interest, and
how to appropriately capture your related persons interests.

What should a CEO send with a complaint to the OIA?

Here are our suggestions on what to send according to the relevant complaint.
Copies of the relevant policies and/or councillor code of conduct that were in force at the time of the complaint.
Names and contact details of council staff or other councillors who may be witnesses to an alleged incident.
Copies of relevant council emails, if applicable.
For Register of Interests related complaints, the original signed Form 2 as submitted by the councillor to the CEO and a copy of the Register of Interests as published at the time.
Copy of an 'associated person' register of interests, if relevant.
Identify whether the council has previously deemed a complainant to be vexatious and if so, on what basis this view was formed.
Whether the complaint has also been forwarded to the CCC.
Last updated: 16 Jul 2019