Insight Edition 1

3 December 2018 – 31 March 2019 : Edition 1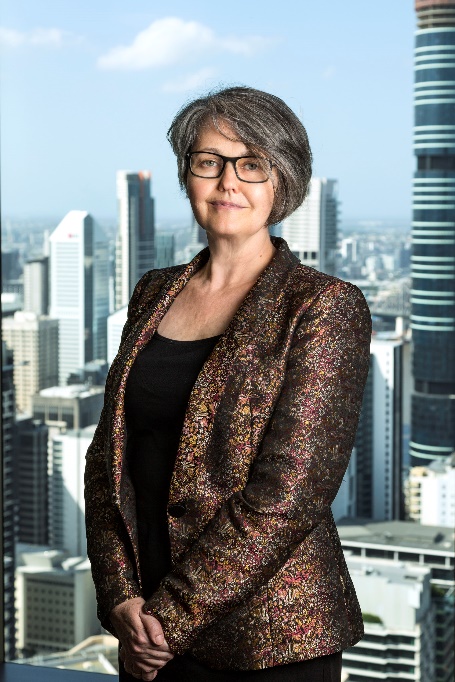 Kathleen Florian
Independent Assessor
Hello,
Welcome to OIA Insight, a quarterly publication to transparently report on the management and outcome of Councillor Conduct complaints.
The OIA will build on the level of analysis and presentation of data in this report over time to inform proactive steps that can be taken by the OIA, the Department of Local Government, Racing and Multicultural Affairs, individual councils and councillors to address priority issues.
The early months of the Office of the Independent Assessor have been dominated by the receipt and assessment of almost 600 complaints.
This level of complaints has been driven by members of the community with 50% of all complaints, the Crime and Corruption Commission with 26% of all complaints, 20% of complaints coming from local government officials and 4% from other sources.
The complaints were about 41 of the 77 Queensland councils.
Given OIA investigation workloads and the need to complete investigations in a timely manner, councillors are being offered the opportunity to fast-track matters where the allegation, or the facts underpinning the allegation, are agreed. These cases are now moving into the Councillor Conduct Tribunal with the aim of quick resolution.
Matters that are not fast tracked will be fully and thoroughly investigated on a priority basis.
Councillors failing to declare or properly manage their personal interests has been the dominant issue raised in complaints received by the OIA.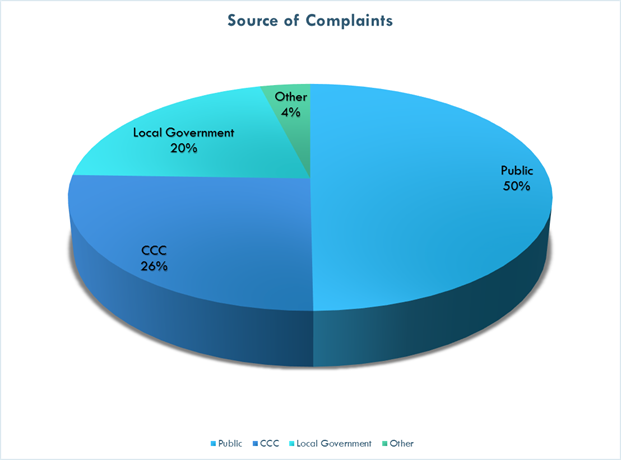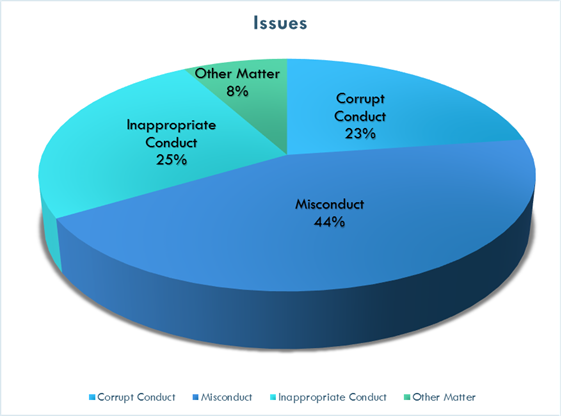 For this reason, the OIA has collaborated with the Integrity Commissioner and all other key stakeholders to develop agreed practical personal interest guidelines (PDF, 193KB) and practical meeting and other aids to assist councillors and councils to identify, disclose and manage these issues in the public interest
Similarly, the OIA has also worked with the LGAQ, the ECQ and other key stakeholders to collaboratively develop social media guidelines for councillors (PDF, 277KB) to assist councillors to appropriately manage their online activity.
This work reflects the importance that I place on education and working collaboratively to develop and apply clear standards and expectations. I would much prefer assisting councillors to understand their obligations than investigating complaints of alleged breaches of the Act.
I have also started to travel extensively to meet with local government officials to ensure that I understand the unique context and challenges that they face.
Contact: independentassessor@oia.qld.gov.au 1300 620 722
---
Data dashboard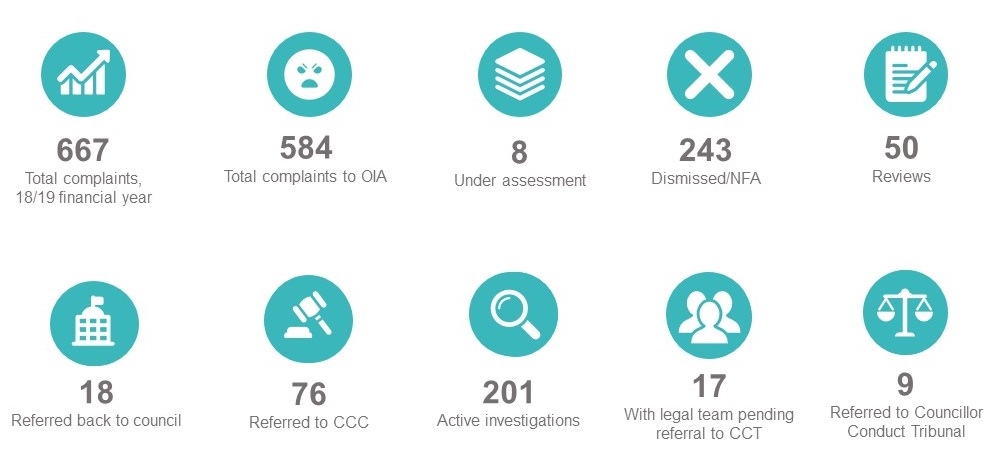 ---
Complaint statisics
Complaints comparison by financial years
Complaints continue to grow in the 2018–19 financial year. The large volume of complaints includes the addition of all inappropriate conduct complaints now being assessed by the OIA. Previously they were only assessed by the council CEO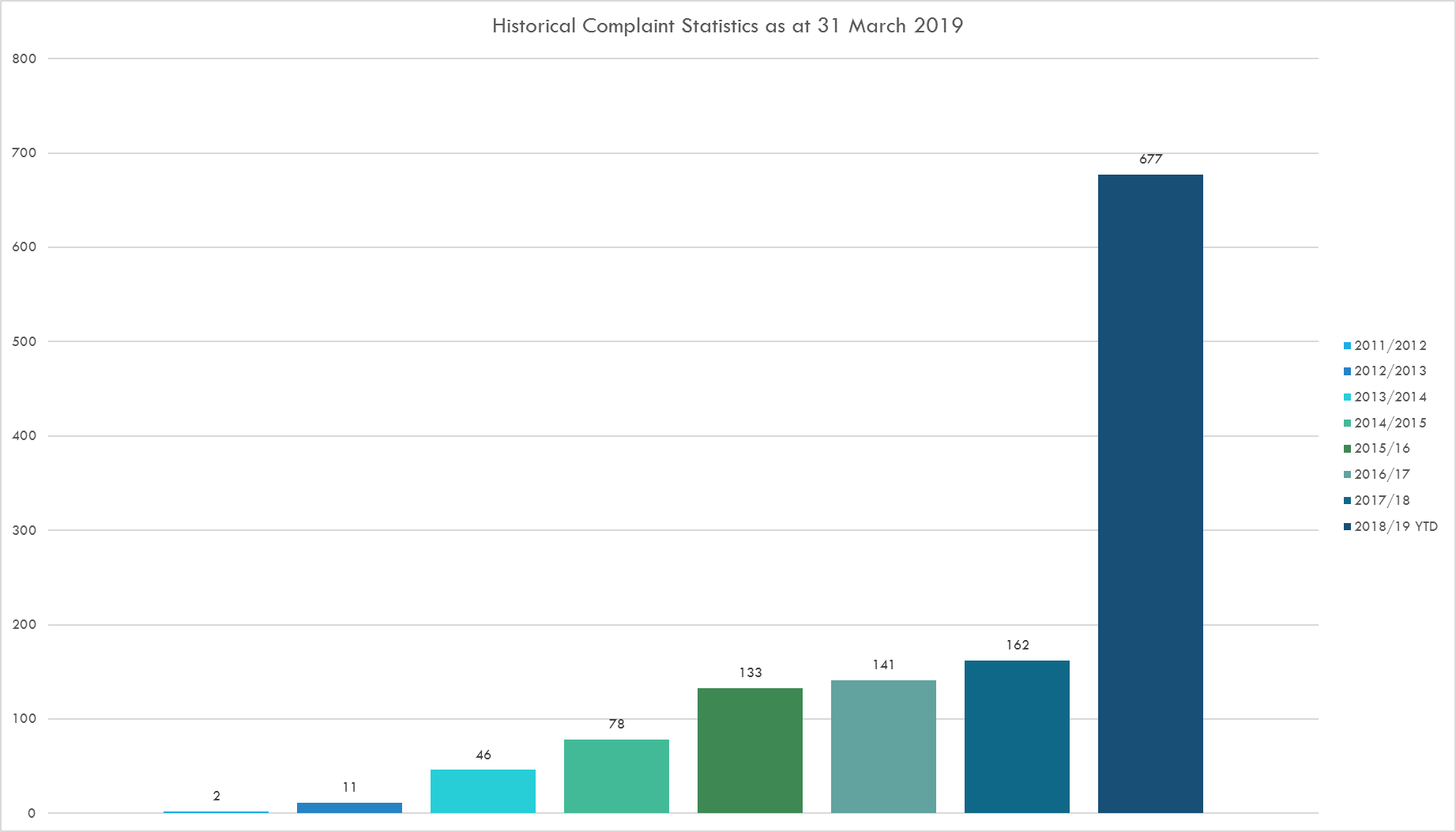 ---
Regional breakdown
South East Queensland
This is a breakdown of the number of complaints for councils in South East Queensland. Note, this does not include Brisbane City Council as the OIA does not have jurisdiction over those complaints.
The top three types of complaints for south-east councils were conflict of interest, a breach of trust and a breach of policy.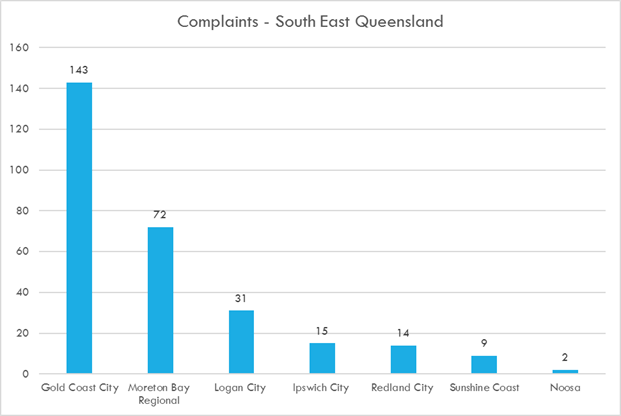 Note: All complaints regarding Ipswich City Council relate to previous councillors.
Case study
Insight will use case studies from all councils, over time, to explore the reasons behind the data and highlight how the OIA assessment works.
Gold Coast City Council
143
Complaints
29
Investigations
111
Dismissed/NFA
The OIA received 143 complaints about the conduct of Gold Coast City councillors in four months. While it was the most complained about council, the Gold Coast is the most populated region in the OIA's jurisdiction and complaint numbers in this period were significantly impacted by a single issue.
More than half, 75 complaints, related to community concerns in relation to a single issue, being the development of the Black Swan Lake.
Of the 143 complaints assessed by the OIA, 111 or almost 80% of complaints were dismissed or no further action was taken within an average of 15 days from the receipt of the complaint.
The complaints were dismissed as they were assessed as not being about councillor conduct or were already under investigation by the CCC.
The OIA referred nine complaints to be investigated by other agencies including six matters assessed as inappropriate conduct that were referred back to the GCCC to deal with. Three complaints included a recommendation that they be referred to the Councillor Conduct Tribunal for independent investigation.
The OIA has commenced 29 investigations into suspected misconduct. The key issues for the OIA investigations are allegations relating to the management of conflict of interests, breaches of trust and the accurate recording of registers of interest.
Possible outcomes from OIA investigations range from dismissal if complaints are not found to be substantiated, to referral to the Councillor Conduct Tribunal to commence disciplinary proceedings if the Independent Assessor is reasonably satisfied that the councilors conduct is misconduct.
Black Swan Lake
75
Complaints
(53% of total Gold Coast)
93%
Dismissed
7%
Referred agencies
Regional Queensland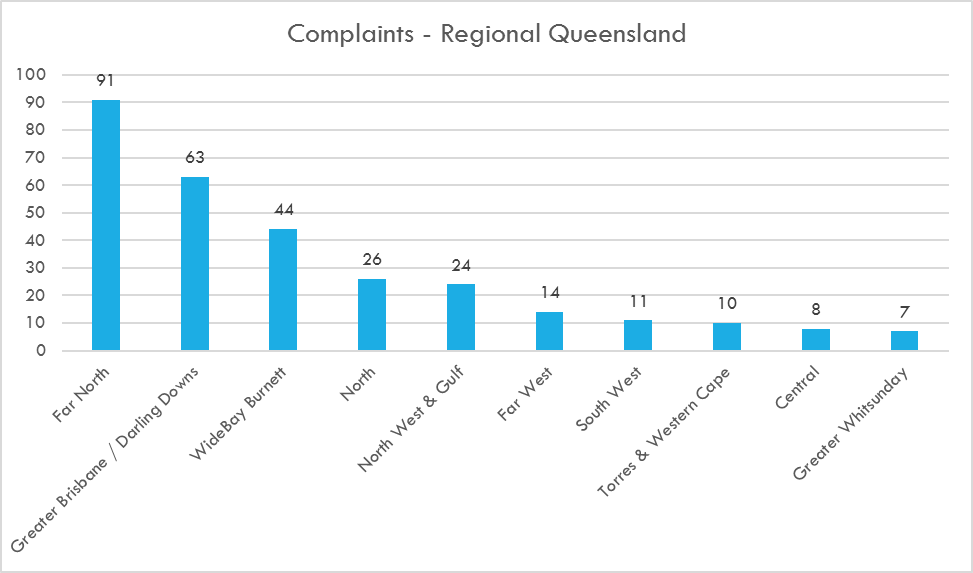 Note: View the list of councils in each region (PDF, 150KB).
---
Case study: Far North Qld councils
Insight will use case studies from all council regions, over time, to explore the reasons behind the data and highlight how the OIA assessment works.
91
Complaints
47
Investigations
44
Dismissed/NFA
The Far North Queensland group of councils includes, Cairns, Cassowary Coast and Tablelands Regional Councils, Cook, Douglas and Mareeba Shire Councils and Yarrabah, Hope Vale, Lockhart River and Wujal Wujal Aboriginal Shire councils.
The majority of complaints came from the most populated areas of Cairns and Cassowary Coast.
The CCC referred 41 of the total complaints to the OIA with 37 coming from members of the public.
There were no complaints in the period regarding councillors from Cook Shire Council and Yarrabah, Hope Vale, Lockhart River and Wujal Wujal Aboriginal Shire councils.
The key issues the subject of investigations in Far North Queensland councils are alleged breaches of trust, allegations of failure to appropriately disclose material personal interests, allegations relating to the release of council information and conflict of interest.
Possible outcomes from OIA investigations range from dismissal if complaints are not found to be substantiated, to referral to the Councillor Conduct Tribunal to commence disciplinary proceedings if the Independent Assessor is reasonably satisfied that the councilors conduct is misconduct.
---
Issue overview
Councillors failing to declare a conflict of interest attracted the greatest number of complaints in the first four months of the Office of the Independent Assessor.
| Category | Number | per cent |
| --- | --- | --- |
| Conflict of interest | 191 | 24 % |
| Breach of trust | 127 | 16 % |
| Breach of Code of Conduct | 106 | 13 % |
| Dishonest / impartial performance of functions | 77 | 10 % |
| Out of jurisdiction | 77 | 10 % |
| Breach policy / guidance | 77 | 10 % |
| Social media | 39 | 5 % |
| Register of interests | 31 | 4 % |
| Material personal interest | 20 | 3 % |
| Release information | 18 | 2 % |
| Misuse information | 18 | 2 % |
| Directing staff | 7 | 1 % |
| Unclassified as at report date | 6 | 1 % |
| Reprisal | 1 | 0 % |
| Vexatious / frivolous | 1 | 0 % |
| Repeat inappropriate conduct | 0 | 0 % |
| Total | 795 | |
Note: Learn more about complaint issues, read the Code of Conduct for Queensland Councillors (PDF, 150KB).
---
OIA in Profile
The investigations team - professional and confidential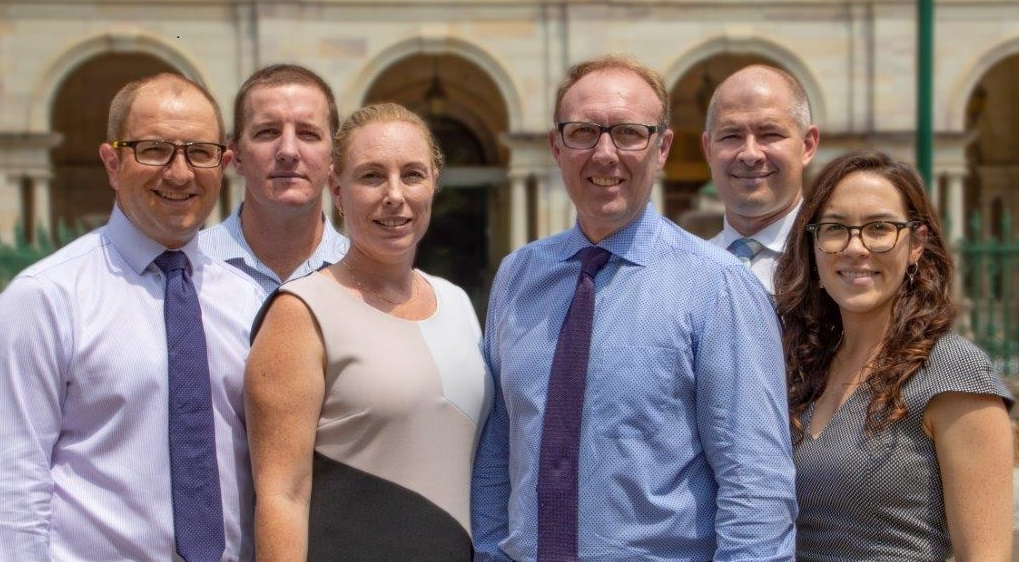 Charles Kohn is the Deputy Independent Assessor and heads a team of specialist investigators.
He comes to the OIA direct from leading the Crime and Corruption Commission's high-profile Operation Windage, which focused on council corruption and organised crime in local government.
Mr Kohn, also performed the role of Detective Inspector with Queensland Police Service, led corruption operations and organised crime investigations at the CCC, as well as liaising between police and Queensland Health Ethical Standards Unit and working for the Australian Crime Commission.
The majority of the team of specialist investigators have a police background, including from Queensland, New Zealand, UK and the Northern Territory police services.
They bring a wealth of investigative experience including corruption investigations, corporations law investigations, police professional standards, health practitioners professional standards, police negotiations, investigation training delivery, serious and organised crime plus all operational skills of police detectives.
Team members previously conducted investigations for the CCC, the Health Ombudsman, Workplace Health and Safety Queensland and the Queensland Ombudsman.
Their skills extend to expert witness interviewing, executing search warrants, forensic examination of digital evidence, financial analysis and major incident management.
The team hold qualifications in finance, criminology, behavioural science, commercial law, fraud and financial investigations, and government investigation.
The investigations team aims to support witnesses and assist councillors through a complaint investigation with professionalism and confidentiality.
---
Toolkit
The OIA has identified a number of issues which are leading to complaints about councillor conduct. Many of these issues can be prevented, so we urge councils and councillors to take the following matters on notice.
Social media responses leading to complaints
.
Councillors are encouraged to use the social media guidelines to manage comments on social media and be aware of their own behaviour as it could contravene the Code of Conduct. Councillors are urged to be mindful of their social media commentary ahead of the next council elections.
Personal interest guidelines and aids
.
These guidelines will be updated following any legislative changes. The OIA has progressed contested matters to the CCT relating to conflict of interest and material personal interests to receive clear directions on how the CCT will apply the relevant legislation. Publication of these decisions will assist councils and councillors to set any apply consistent standards.
Update councillor Register of Interests.
Councillors are required to update their Register of Interests with any new interests and changes within 30 days. Failure to so may be dealt with as misconduct. Councillors should ensure they sign and date the forms. Candidates at the last election must ensure their Register of Interests captures donations received as a candidate.
Investigation Policy.
A number of councils do not have an investigation policy. An investigation policy sets out how local governments will deal with inappropriate conduct that is referred back to the Local government by the OIA. If a council has not adopted such a policy, it must decide by resolution how to investigate each complaint of inappropriate conduct when they are received. If you have not already done so, we urge councils to put an investigation policy in place.
Councillor Conduct Register summary of decisions.
Local governments are required to keep and to publish a Councillor Conduct Register. To ensure that councils consistently and accurately report the matters the OIA dismisses or takes no further action on, the OIA is providing in its outcome letters to CEO's the suggested wording for inclusion in the Councillor Conduct Register. The OIA is actively monitoring councils to ensure these registers are updated.
Last updated: 16 Apr 2019